Suki
[[

|250px]]


Alternate names

Suki

Suki Sagono

Height

5'3

Weight

100 Ibs

Current Location

Outside

Occupation

Helping others

Allegiance

N/A

Likes

Quiet

Flowers

Reading

playing the piano

And surprisingly dancing.

Dislikes

Dogs

Bad food

reckless violence

Family

Younger brother (N/A, died at age of 6)
Suki (full name: Suki Sagono) is Miricle1778 RP character. She is 18 years old and she is shy, beautiful & quiet.
Appearance
Edit
Suki is a beautiful young girl. Suki has short black hair. She has beautiful gold eyes, she also has pale asian skin. She sometimes wear a purple asian dress. She sometimes wear her dress like a shirt with her shorts, she also wears socks to her knees or higher. She wears purple converse-like shoes and purple like gloves.
Personality
Edit
Suki is beautiful, smart, and shy. She doesnt talk much, even though if she did, she would have a quiet voice. She is often mistakend for the youngest when she hangs out with her friends.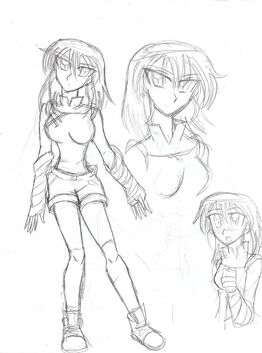 As a child she was fragile and often sick. She has a lot of problems at home that nobody knows about. When she was a young girl, she often got sick when she was a young girl. She was very fragiled. Suki had a younger brother that died at the age of 6. Suki's brother died of a rare illness that couldnt be healed well. Suki and her younger brother played a lot together, her little brother was like her best friend, she was like a second mother to him. When her brother died, she became a little depressed. Her parents left her home a lot because they were afraid of her brother spirit. Suki prayed a lot everyday, she then had the ablity to heal and see and talk to ghost when her brother passed away.
Suki has the ablities to see and talk to ghost. She has waterbending healing ablities. Suki also can read minds and read the hearts of the people who have a crush on her. She prayed a lot which mad her have those ablities.